Introduction
modez is inspired by mobius forms to create designs that are ever evolving & dynamic. modez consultants (formerly mobius architects) reflects this inspiration with finesse and professionalism.
modez consultants LLP is a design firm offering services in architecture and interiors, catering to commercial, retail and premium residential spaces.
Founded with an expertise in the field of architecture and interiors, our strength lies in understanding the client's aspirations and realising their ideas through a fine balance of elegance and creativity.
With a highly competent and an experienced team which is actively involved in achieving excellence, modez provides superior services to its clientele. Enhancing and improving the quality of space is our foremost intention thereby facilitating in the commercial success of our clients.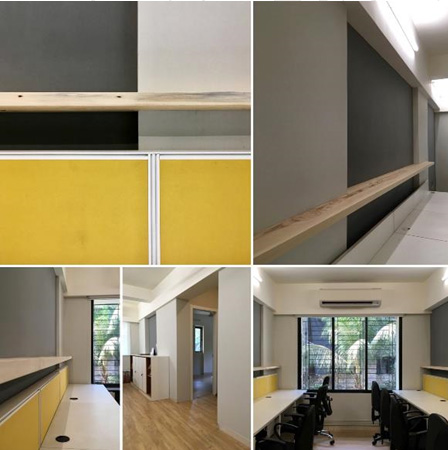 Design Philosophy
Fine architecture is accomplished by active client architect interaction and clarity in design solutions, distinct to each project. We believe in innovation and in creating spaces that reflect maximum utilization teamed with ultimate sophistication.
The design philosophy followed by modez can be summarized as:
Following a minimalist and a rational approach which helps create a human centric design
Understand and respond to the client's desire through economically feasible design solutions
Build solutions based on sustainable design which is our primary focal point.
Flexibility is the backbone of the design in the ever dynamic situation
Design solutions that look beyond the trends
Design Approach
Good architecture requires meticulous attention to every form and detail, from spatial analysis to nuts and bolts. That is why we build what we design!
Our experience in designing goes beyond being simply aesthetic in our work, which means we are aware of the technical competency, budgeting and logistics thus needed. This hands-on experience brings our designs with a rare combination of imagination and viability.
Modez works on a unique design program developed to encompass various stages of the project from Conceptualization to Realization of a Built Space. Following are the key stages which will be demonstrated during the project cycle.
Project Briefing – Understanding the objectives & aspirations and capturing them through a detailed design brief
Concept Development – Translating the design brief into ideas which can be applied to the built environment
Design Development – Developing the concept and detailing the design further retaining the basic essence
Design Implementation – The detail design is converted into documents for implementation
Delivery – Monitoring the implementation through periodic checks to ensure the design is delivered as visualized
The approach followed by the company helps lead to a final solution which embodies the best combination of refinement, reliability, security and performance.
Sustainable Design Practice
Global economic growth and urbanization go hand in hand. With urbanization follows the grave impact on the natural resources, leading to an almost depleted state of the resources. The commercial power of cities depends on the inversion of natural resources into consumable products.
Sustainable design is critical in a world with limited resources and reduces long-term costs. Basic objectives of sustainability are to reduce consumption of non-renewable resources, minimize waste, and create healthy, productive environments.
Utilizing a sustainable design philosophy encourages decisions at each phase of the design process that would help reduce negative impacts on the environment and the health of the occupants, without compromises. Such an integrated and holistic approach positively impacts all phases of a building's life-cycle, including design, construction, and operation.
Modez follows the practice of Sustainable Design for all purposes, keeping in mind the depleting non-renewable resources. This is adopted through the design enabling energy efficiency and material selection considering its environmental compatibility.
Sustainable Design not only creates a positive impact on public health and environment, but also optimizes operational and maintenance costs, thus enhancing building and organizational marketability and increasing occupant productivity.
Thus the emphasis is not only on using energy efficient systems which would in turn reduce operating cost, but also on ways to reduce energy requirement through a careful design strategy.